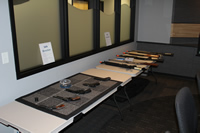 Combined Firearms Safety Course
The Combined Canadian Firearms Safety Course is LiveFire Firearm Safety's custom course that teaches both the Non-Restricted CFSC and Restricted CFSC together over a weekend. All of the materials taught in the two courses are presented in a more relaxed learning environment. You will be presented with your copy of the course reports and all documentation needed to apply for your PAL and RPAL at the end of the class.
This course gives you all of the information and training required to obtain both Non-restricted long guns such as rifles and shotguns, and Restricted firearms such as handguns and AR15 style rifles.
"Alan made the firearms training course interactive and engaging! I highly recommend him to complete your PAL" - Renée
Topics Include:
History of Firearms
ACTS and PROVE
Basic Firearm Safety
Ammunition Selection and Construction
Loading and Unloading of Non-Restricted Firearms
Loading and Unloading of Restricted Firearms
Carrying Positions
Range Safety
Care and Cleaning of Firearms
Social Responsibilities
Storage, Display, and Transportation of Non-Restricted Firearms
Storage, Display, and Transportation of Restricted Firearms
You will learn how to safely handle, load, and unload the following Non-Restricted firearm actions:
Break or Hinge
Bolt
Pump
Lever
Semi automatic
And the following Restricted firearm actions:
Single Action Revolver
Double Action Revovler
Semi Automatic Handgun (Single and Double action)
Registration Information:
Prerequisite: None
Maximum Students: 6-8

Location:

#201 4148-76 Avenue NW,

Edmonton

,

AB

Cost:

$

220.00

(including GST), a $15 savings over taking the courses individually!
Combined Course Schedule.
Due to concerns about the Coronavirus, we have decided to suspend classes until further notice. The CFP is operating at reduced capacity, so the wait time for getting your licence if you have already taken the courses will be even longer now. Sitting in a classroom with other people is the exact thing we need to be avoiding right now. If you are looking for things to do in your spare time, you can download a PDF copy of the text book and study it for when we start offering classes again. Find it here: CFSC MANUAL PDF.
Keep checking back for updates.
PostPoned until further notice.