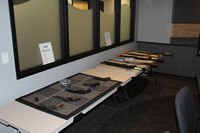 Custom Canadian Firearms Safety Course (CFSC)
At LiveFire Firearm Safety we work some strange hours and know that many of you do too. Camp work, oilfield work, and contract work can wreak havoc with schedules. Trying to find a course that fits into your crazy schedule can be hard, and we recognize that. We can offer you custom times for courses that fit your schedule. Weekdays and weeknights. We will even come to you!
"I have an extremely busy schedule and Alan was willing to cater to me and give me 1 on 1 RPAL. Extremely knowledgeable and professional." - Gregg
If you have a minimum of three people we can run a course to fit your schedule at our classroom. If you have a minimum of 5 people and a classroom area, we will come to you. We have taught in homes and community centers.
We also offer refresher courses if you are feeling a bit rusty and would just like to practice a bit before hitting the range again.
Let us know what you would like, and we will do our best to make it happen.